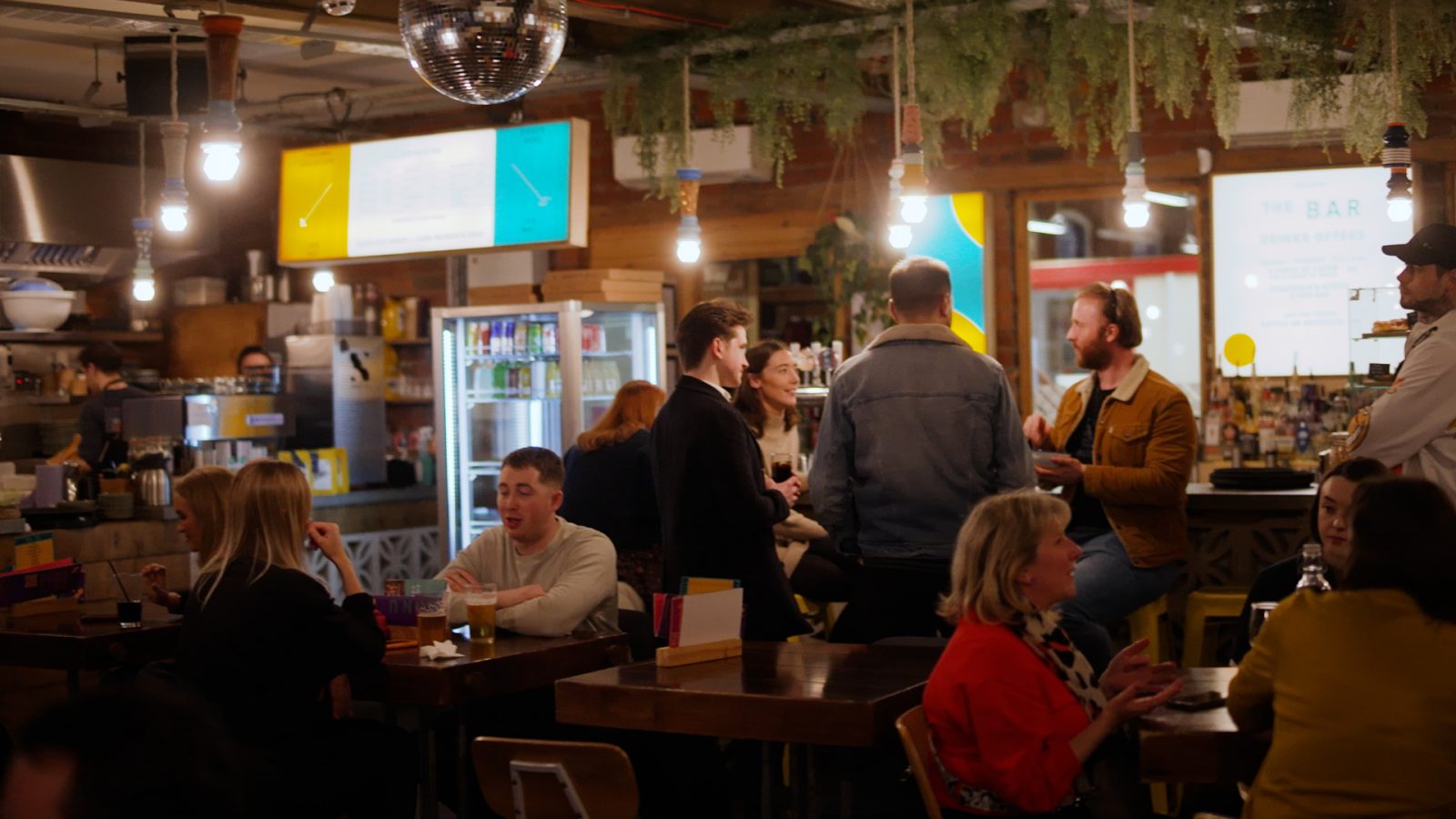 The Friday Residency
The Friday Residency continues in full swing for 2023!
While our café remains closed, the bar is open every Friday 5-Late. Enjoy a diverse array of DJ performances, including local legends, back 2 back specials, collective takeovers, versus battles, genre-themed evenings, record store collaborations, and special guest international DJs. And to whet your appetites, we've introduced weekly pop-up kitchens, so you can savour delicious dishes as you groove to eclectic tunes. The full Q2 schedule can be found below.
Every Friday, live DJs play an eclectic selection of music from 5 pm till late.

Always Free Entry

A perfect soundtrack to kickstart your weekend

Experience incredible music

Relax in a cosy, intimate bar setting

Enjoy enticing food and drink deals

Engage with our warm and friendly staff

Conveniently located just a short stroll from town
Q3 Schedule:Dates of Events:
Friday, 07/07: DJ Subaru
Friday, 14/07: Bazuka Residents
Friday, 21/07: Airstream Events presents "The Little List"
Friday, 28/07: Souq Sounds
Friday, 04/08: Drip & Mates: Pride Weekend
Friday, 11/08: Alto Radio Presents
Friday, 18/08: Love Muscle's Summer Fever
Friday, 25/08: Pre-Carnival Selection
Friday, 01/09: Dman&Friends
Friday, 08/09: In The Window
Friday, 15/09: Friday Feeling X FRAWL
Friday, 22/09: Azúcar Presents: Mami Chula & Friends
Friday, 29/09: TBA

Pop-Up Kitchens:
Friday, 07/07: Little Yellow Rice Co
Friday, 14/07: Koben Po Boy
Friday, 21/07: TBC
Friday, 28/07: Mezaj Schwarma
Friday, 04/08: Dijon Boys
Friday, 11/08: Grate Grilled Cheese
Friday, 18/08: TBC
Friday, 25/08: Niko's Comfort Kitchen
Friday, 01/09: Miski Mexican
Friday, 08/09: TBC
Friday, 15/09: Frawl
Friday, 22/09: TBC
Friday, 29/09: Dining Club
FAQs:
What time does the Friday Residency start and end? Doors open at 4 pm, DJs start at 5 pm and go on until late.

Is there an entrance fee? No, entry to the Friday Residency is always free.

Can I reserve a table for the event? As of spring 2023, you can now book tables with us, just get in contact on our socials or give us a call

0113 245 9487

How often do the pop-up kitchens change? Pop-up kitchens change every week.

Can I submit a request to perform as a DJ at the Friday Residency? We generally curate the lineups ourselves meticulously, however, it can't hurt to be made aware of new exciting DJs & Collectives, send us an email at [email protected]

Are there any age restrictions for attending the Friday Residency? All ages are welcome until 9 pm; after that time, the event is restricted to those aged 18 and above.

Is the event wheelchair accessible? Sheaf St is a wheelchair-accessible venue via a temporary ramp, ask one of our friendly staff on arrival and we'll put it out.

Can I bring my own food to the event? As a sign of respect to anyone running a pop-up kitchen, we would kindly ask no outside food be brought into the venue, unless specified by us elsewhere.

Are there any drink specials or promotions during the Friday Residency? We regularly run a selection of well-priced alcoholic drinks, in addition to weekly special drink deals. Current drinks deals: 4 shots for the price of 3 or a bottle of prosecco for £25 between 4 pm and 10 pm


How can I stay updated on upcoming DJs and pop-up kitchens? Keep updated here on the website for the full listings, or on our socials:
ig: @sheafst

fb: https://www.facebook.com/sheafstreet

Twitter: https://twitter.com/SheafStreet